Well, it's goodbye 2019 and finally into something that sounds properly futuristic: 2020. But how exactly does one ring in their new, better, brighter 2020 vision? We've decided to keep it simple and give you the 3 biggest and best Dublin New Year's traditions.  
Fireworks at the Customs House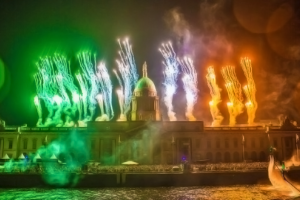 They call this the Liffey Lights Midnight Moment. It's totlally free and it'll be a real spectacle! A "Solar Symphony" – choreographed fiery celestial display that will be video mapped onto the walls and  buildings surrounding the Custom House Quays. All of these images and fireworks depicting hurtling comets, shooting stars and spiralling Galaxies will be accompanied by a newly devised musical score performed live on a purpose built stage floating on the river Liffey that will include a 20 piece orchestra and many other musicians.
If you want a link to share to encourage your friends to come down to George's Quay to ring in the New Year in style, hit 'Bubblbook it' to get a shareable link below! 
2.  The Bells of Christchurch at Midnight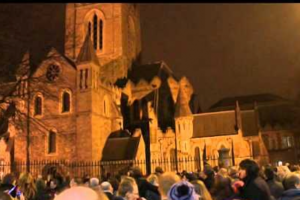 What's weird about this one is that despite it being a tradition for as long as anyone can remember, there's not a word about it anywhere on the internet. Well no more!
The bells at midnight at Christchurch is age-old. Every year without fail hundreds of Dubs gather under Christchurch to hear 16 – 18 peals of the bells on the stroke of midnight on New Years Eve. There's always a nice atmosphere, strangers chat to each other and you get a great mix of people. This is something I have personally done almost every New Year's I've been in the country and I'm fond of it for a reason. 
You can grab a pint in The Lord Edward or other nearby bars where as midnight approaches they start to offer plastic glasses so that everyone can head out to take part in the countdown and listen to the bells. Often there are carol singers and other groups and in general it's a very friendly affirming gathering with not too much fuss and lots of New Years hugs and wishes. Old school, but all the better for it. If you think it's worth a shot getting a gang together why not share a link by hitting 'Bubblbook it' below – nothing to lose!
3. Parties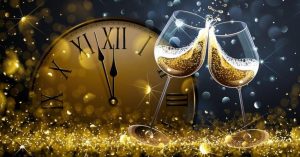 If you don't fancy standing outside in the cold, lots of venues around Dublin will be putting on parties with the usual countdown and revelry at midnight. Right enough most of them will be pay-in but sure what will you be needing money for in 2020 when robots will be doing everything? Here's a list of some of you best options:
1. DTwo: Masquerade Party
This masquerade party starts at 8.30pm, with a complementary glass of bubbly and a mask provided on arrival. They'll have 2 DJ's playing over 2 floors with 5 Bars. Tickets purchased in advance are €10, or €15 on the night.
2. Fitzsimon's New Year's Eve party
Here's one right in the heart of Temple Bar with four bars and five floors, including a roof garden. Live Music from two DJs, and the Popcity 90s-themed club will keep you going long after the bells have rung to bring you into 2020. Tickets range from €15 to €30.
3. The Roaring 2020's New Year's Eve party at the Liquor Rooms
Re-welcoming the Roaring Twenties seems like a decent theme  to ring in the New Year at this award-winning cocktail bar. Also centrally located in Dublin's famous Temple Bar, this party marks the 100th anniversary of prohibition in America, so House of Elliot dresses and trilby hats should be worn where possible! Tickets are no more than €15 and include a complimentary cocktail on arrival.
4. New Year's Eve party at Café en Seine – "Gatsby? What Gatsby?"
Café en Seine are also jumping on the the twenties theme. Being recently refurbished, it's probably the most qualified to pull of a Gatsbyesque Roaring Twenties party! A brass band will provide music entertainment, followed by Poplife, an Irish cover band who'll stick to the favourites! There will be DJ's too. Tickets-holders will also enjoy a complimentary Tanqueray No. Ten & Tonic. All for €30.
5. 90s/00s Throwback at NoLIta
NoLIta on South Great George's Street will look back on the last 2 decades this New Year's Eve encouraging all comers to blend in with the vibe with their best 90's and noughties outfits.  The two DJs of the night, Justyna Koss and Stricky, will have you in a nostalgic trance as they play a selection of 90s/00s tunes. Tokens for this time machine will cost you €17.
6. The Odeon: Masquerade Ball
Ring in New Year's Eve in style at The Odeon on Harcourt Street. They are running another masquerade ball  from 7pm. Entry is just €10 and that includes a glass of bubbly on arrival as well as your mask. The DJ will be playing the best in chart & classic dance til late into the night..
7. Sophie's: Swing into 2020
Swing into the new year and enjoy stunning views of the city's fireworks at Sophie's in The Dean on Harcourt Street, Dublin 2. Three floors of good music, good drinks and good vibes. Check out The Dean Bar, Everleigh & Sophie's on this access all areas night. Limited early bird tickets priced from €20.
8. Dakota: New Year's Eve Extravaganza
Dakota on South William Street, Dublin 2 will be putting on a massive party night from 7pm with, DJ, late bar & a classic midnight balloon drop.
9. Everleigh: Y2K Party
On the turn of the millennium computer glithces where supposed to obliterate us all – but 20 years on we're more computer-dependent than ever! Yay! To celebrate Everleigh are throwing an 'end of the world' Y2K party. The DJ will be playing noughties favourites til late, with lots of drink deals, confetti cannons and the like! Tickets are from €10 prebooked or €15  on the night.
10. Lemon & Duke: After Party
Lemon & Duke, just off Grafton Street are starting their party at 9pm. Tickets are €15 which includes a glass of prosecco.
11. Zozimus: Black & Gold Party
Zozimus on Anne's Lane off Grafton St will host their 'Black & Gold' party this year to ring in 2020 with a stylish bang.  Entry is FREE, walk-ins are welcome and you'll be especially spoilt for choice with their range of cocktails.
12. McGowans: New Years Eve Masquerade Party
McGowans in Phibsboro are throwing another masquerade party over their three floors with a late bar and DJ on the night. Get in early to grab a mask before they're gone. It will be busy! €10 for a ticket on the night (up until 10pm only)!